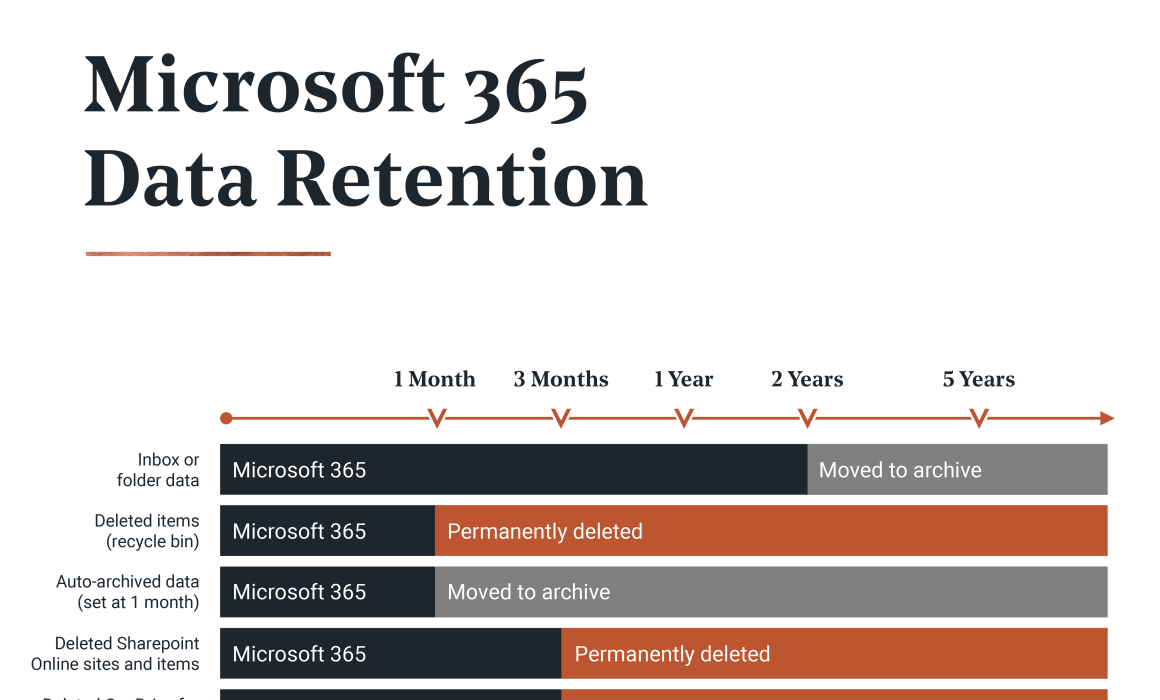 What happens if your team can't access important business files? The impact of data loss is disruptive at best and devastating at worst. While many businesses associate data loss with cyber attacks, a lot of the time it's a little closer to home—user error. So, how safe is your Microsoft 365 data? 
Having a Microsoft 365 backup and recovery solution in place is critical to business continuity and protection. It protects your business in a number of ways: 
Fast recovery from human error such as accidental or deliberate deletion

 

Set longer retention periods than the default 90 days when a subscription ends or is terminated

 

Protect your business data from external threats such as ransomware attacks 

 

Ensure compliance and legal requirements are met with the ability to quickly recover lost data

 

Prevent data loss across Microsoft 365 applications such as SharePoint, Teams and Outlook

 
Managing hybrid email deployments and migrations

 
1. Recover quickly from data loss due to human error
Human error comes in many forms including accidental deletion, deliberate deletion by an unhappy employee, or a cyber breach resulting from a threat such as successful phishing. It can take just a couple of clicks and valuable business data is lost. No matter how it happens, ensuring your business has an effective Microsoft 365 backup and recovery solution in place will prevent data loss due to human error. 
2. Set longer retention periods
When a Microsoft 365 subscription ends, customer data is stored for 90 days. Once this period ends, all data is deleted. Depending which industry you are in, you may be required to have longer retention periods in place. And even if it's not legally required of you, it's always a good idea to give yourself more time to retrieve data.  
3. Protect your business against ransomware attacks
With ransomware on the rise in Australia and around the world, it's important to have an effective backup and recovery plan in place for your Microsoft 365 data. This plays a crucial role in strengthening your lines of defence. Ransomware usually comes from clicking a malicious link and once it gets into your business it locks or encrypts your files, demanding payment for it to be released. This can cause serious downtime and disruption to your operations.  
4. Meet compliance requirements
While Microsoft 365 has some built-in features that allow you to collect and copy data, a purpose-built third-party backup solution still plays an important role. It can help your business better meet specific compliance and regulatory needs by allowing you to easily search and bring back data. 
5. Managing hybrid email deployments and migrations
When adopting Microsoft 365, businesses usually need some time to transition from the legacy system. And some leave elements of the existing systems in place for flexibility and control. An effective Microsoft 365 backup solution will handle this hybrid email deployment, treating all data the same to prevent any data loss. 
Our approach to M365 backup
At Monocera, we use a third-party application to back up email, OneDrive, SharePoint and Teams sites daily or twice a day. This backs up your data outside of Microsoft so that if something does go wrong, your data is kept safe. This service is included for our managed services clients and is also available in a prepaid model at a small fee per user to gain unlimited retention. 
If you'd like to learn more about Microsoft 365 backup and recovery get in touch!